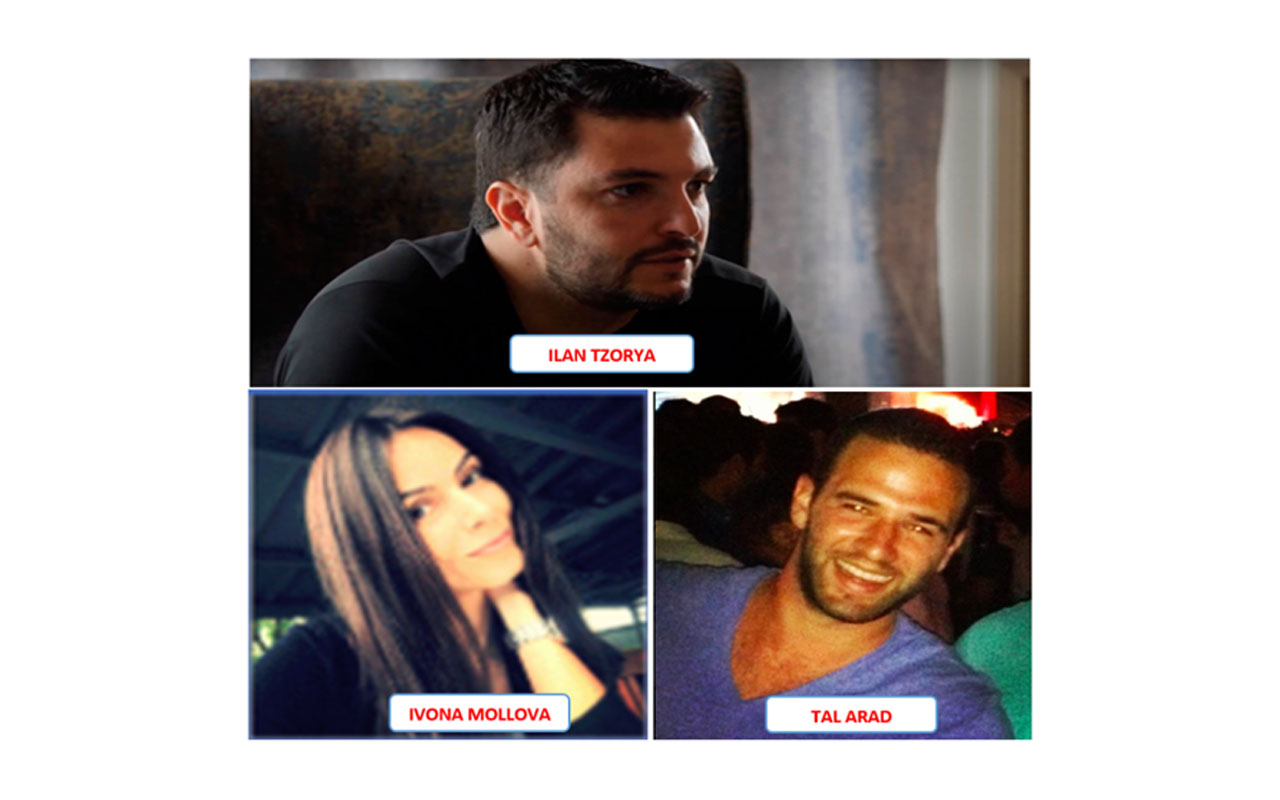 Tzorya's 'House of Fraud' Exposed! Tal Arad & Ivona Mollova Managed the Largest Bank Account— GMP BVI's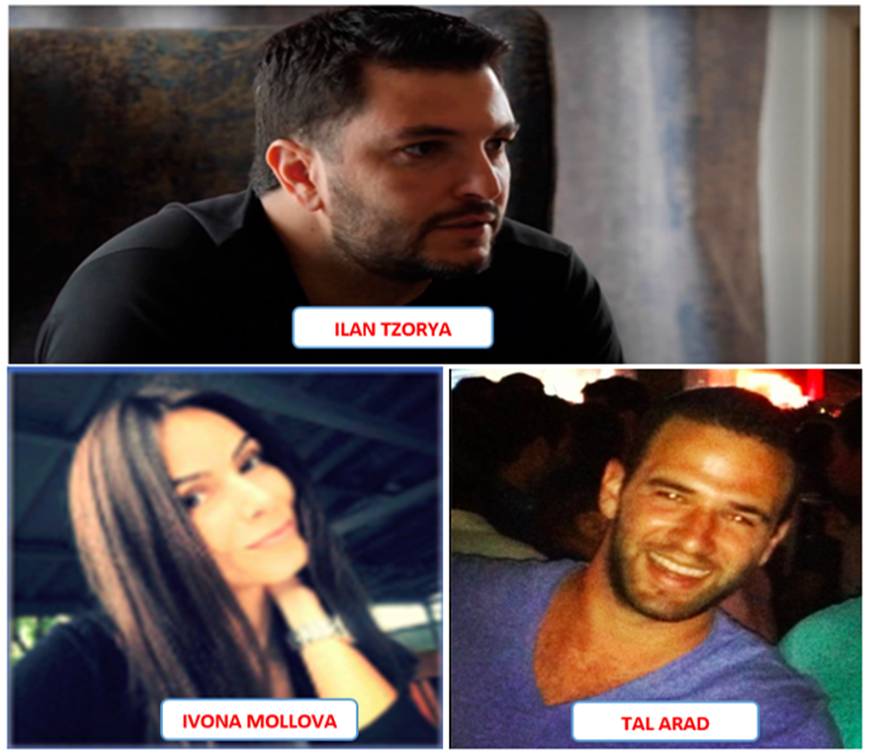 Ilan Tzorya is one of the smartest fraud masterminds who spares nothing, including close family members, in furthering his deviant ambitions. According to reliable information gathered by our team, most of the staff who worked for the E&G group, one of the most notable fraud operations in Europe, were a group of hardworking Israelis.
Some Israelis hired by Ilan were close relatives, offering the highest level of trust and commitment Ilan needed to make it headways in his path to becoming a self-proclaimed crypto billionaire. Sadly, Tzorya also recruited his family into his fraud operations without minding the far-reaching consequence of his actions.
In this article, we'll delve deep into how Ilan Tzorya's close family members were involved in running the insider business operations and controlled all the money received into GMP BVI, the parent company for the E&G network.
Tal Arad Managed GMP BVI & Distributed Dividends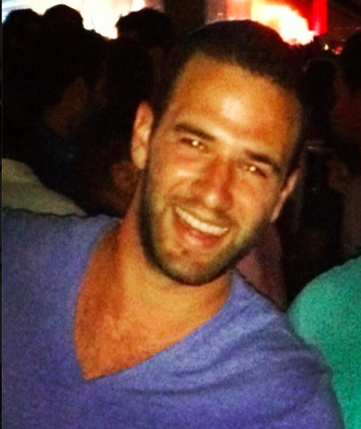 As discussed earlier in a separate article, Tal Arad is one of Ilan Tzorya's most trusted employees, who doubled as Tzorya's brother-in-law.
The certified accountant is husband to Tzorya's sister Shoval Tzorya (a barrister and a prosecutor in Israel), making him one of Tzorya's relatives. With extensive experience and a high level of competence in his work, Tal became Tzorya's favorite.
Tzorya appointed him the Chief Financial Officer (CFO) at the E&G and also managed the E&G's parent company, GMP BVI. This was the largest account receiving money from virtually all the operations Tzorya engaged in.
Tal was also exposed to the company's money laundering activities and was in charge of distributing dividends received from Tzorya's multiple ventures, including the E&G network.
Being 100% Tzorya-owned and the parent company to E&G, GMP BVI received all the money accruing from numerous fraud ventures masterminded by Tzorya and funded most of the new startup call centers across Europe. Mr. Arad also helped Tzorya organize funds received in GMP BVI through GAP and generate false reports to give a misleading view of the company. Being part of the massive force behind E&G's success, Tal launders his share of criminal proceeds before smuggling the money into Israel, where he continues to make multi-million-euro investments in real estate with the help of his wife Shoval—a certified barrister and a prosecutor in Israel.
Ivona Mollova In Charge Of GMP BVI Back Accounts and Transactions
Ivona Mollova is Ilan's ex-wife and an accountant at the center of Ilan's wealth. Despite being Ilan's ex-lover, she is still in touch with Ilan since they have a son to raise. They do not live together or have shared life, only meet once in a few months.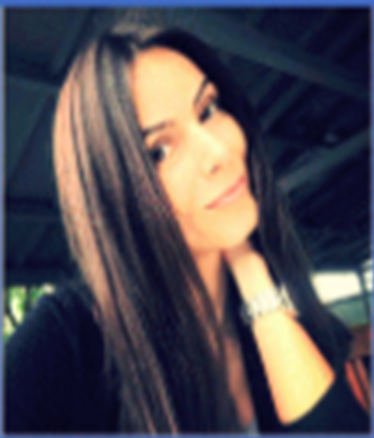 She is a TRUSTED PERSON OF ILAN. Ivona is responsible for paying invoices, checking, and confirming the exact amounts of money in GMP BVI's bank accounts. Not to mention, Ivona works with Ilan at GST Markets, E&G, and Global Media Partners Ltd.
Since Ivona has no past criminal records, Tzorya has been using his alleged ex-wife as the right hand of evil, hiding the massive wealth gained through fraud under an innocent name.
Mollova has access to virtually all of Tzorya's bank accounts, with most of Tzorya's wealth hidden under her care.
Mollova was the manager of Tzorya's companies, including an Israel-based real estate company that owned dozens of expensive high-rise properties Tzorya bought using the proceeds of crime. By using sophisticated financial paths, many banks account with different trustees and strawmen, Tzorya made the process of tracking his criminal activities and ventures rocky. And in the process, he traded his partners for his freedom and denied having anything to do with the E&G.
A Family Collaborating in Crime
While Tal was in charge of distributing dividends received from the E&G call centers business, Ivona was responsible for paying the invoices generated by Tal and keeping track of the accounts balances and cash inflow.
Despite working together as Ilan's staff, Tal and Ivona are close relatives of Tzorya working towards a common goal of defrauding their "investors" channeling the money into Tzorya's bank accounts, from which they also get their fair share. In a secret email conversation dated April 10, 2018, Tal Arad asks Ivona Mollova to send some money from Tzorya's GMP BVI to GM globe, the company receiving Gal Barak's dividends.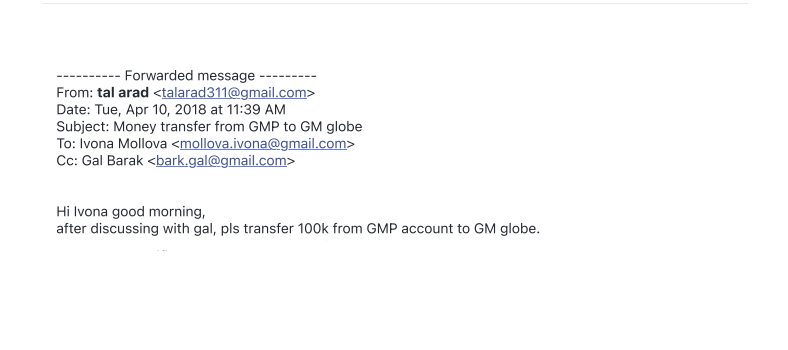 "Hi Ivona, good morning. After discussing with gal, pls transfer 100k from GMP account to GM globe," Tal Arad requested.
From the above facts and evidence, Ilan Tzorya used his close family members to further his fraud ambitions. The conversation shows how Tal Arad worked closely with Ivona Mollova at GMP BVI and managed all Tzorya's accounting issues at E&G.